Join us for a personal experience around wine
Get to know the wines of the Casablanca Valley, how they are produced and the history of the Diaz family. The store and the Loma Larga tasting rooms are built between gardens, orchards and vineyards. There, visitors can taste our wines and tour the cellars and fermentation rooms. Enjoy a horseback ride through the vineyards themselves and participate in a tasting tour guided by a sommelier. Choose one of the suggested activities or allow us to design a visit tailor-made for you.
We are open from Monday to Sunday, from 9:00am to 5:30pm.
Although we do suggest confirming your visit, the store is open to the public. Complementary tasting sessions of one wine per visitor are available. We do require you make a reservation for wine tourism, this includes tasting tours.
We hope to welcome you on your visit to the Casablanca Valley!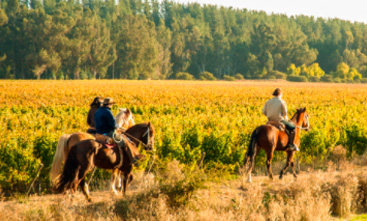 Horseback Ride and Carriage tour
Enjoy a 1-hour horseback ride (or horse-drawn carriage ride) through the Loma Larga Estate and vineyards. After the ride, make your way back to the winery and visitor's house and enjoy a tasting of four wines. Only supervised children over 8 years.
Includes a Tour and Tasting Clásico
Duration: approx 2.5 hours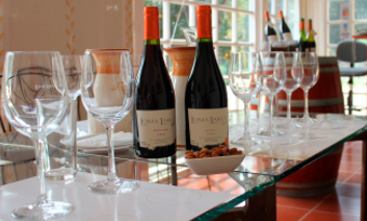 Guided tour to vineyards, winemaking facility and underground barrel cellar, ending with a guided tasting of four wines. Local mini cheeseboard included as a courtesy.
Duration: 1 hour approx.
Wines depend on availability
Ask us about other tasting options, including signature and sparkling wines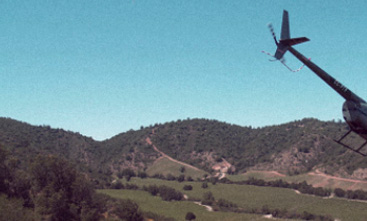 After a guided tour and tasting, our helicopter will lift you to enjoy the most spectacular views: Patchwork vineyards, the coastal range and an extended birds eye tour of the wonderful Casablanca Valley. Is a 24-minutes flight over the Casablanca Valley. The flight may end in Loma Larga or in another winery in the Valley.
Includes Tour and tasting Loma Larga.
2 person minimum. Our helicopters are able to carry up to 4 adult passengers (Combined weight not to exceed 320 kg – 705 Lbs)
El Golf 82, 9th floor
Las Condes, Santiago
Telephone +5626572211
Fax +56226572223
Fundo Loma Larga
P.O. Box 139, Casablanca
Telephone +56322742098
info@lomalarga.com
Information on wine tourism,
US wine club and wine store
tienda@lomalarga.com